Google Bulletin could be a new option to post local news or stories
Published on January 27, 2018
Google is testing out a new tool named 'Bulletin' in the form of application. The application is to crowdsource local news or stories which can be posted on any smartphone. Google described the app as a way to communicate information of local interest. An early access website is also available which is currently active only for the public of Nashville and Oakland, California.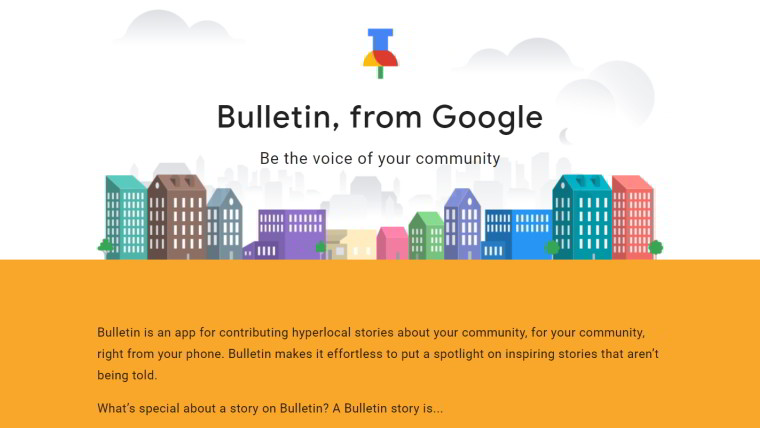 On that site, Google explained about the application by saying that the app is for contributing hyperlocal stories about your community, for your community, right from your phone. Google says that Bulletin makes it effortless to highlight a story which isn't being told yet.
Bulletin app is impactful as it helps to tell the stories which have been mentioned yet. Bulletin stories are public and secure to discover on Google search as well, through social networks or via links sent by email and messaging apps. This makes it convenient to read and circulate Bulletin Stories. Google also mentions that no setup of a website or blog is required to tell everyone a local story instead all you need is just a smartphone.
Google also says that Bulletin is a lightweight app that allows you to circulate unheard and untold local stories, photos and video clips straight from your smartphone.
Also "If you are comfortable with taking photos or sending messages, you can create a Bulletin story." the website says.
According to Slate, A Google spokesperson at a launch event in Nashville said that Google wants to work with local news organizations to help them find and publish some of the stories posted to Bulletin along with author credit.
Google indirectly wants to change the tradition of tweeting any local news or story on Twitter and wants people to post images and latest stories on Bulletin app instead of Twitter. These Bulletin stories can also be crawled in Google search. Thus this could be a better way for all the local news providers.