Facebook & Instagram Decided to Enter the eCommerce World – Here is Everything You Need To Know
Published on June 9, 2020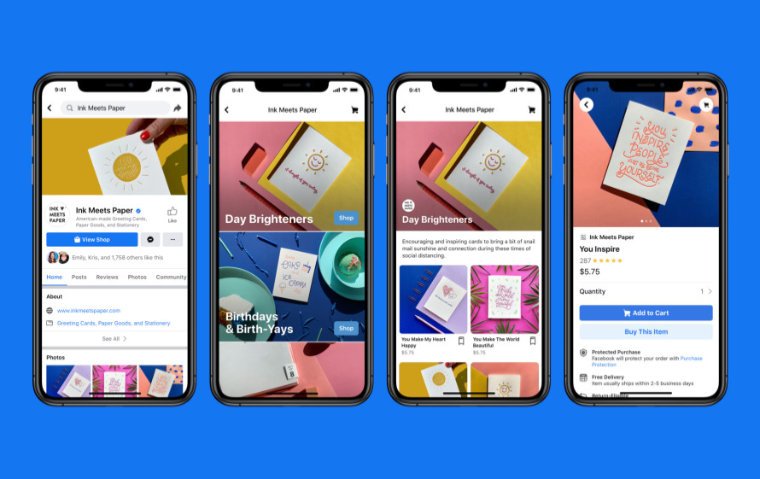 A few weeks ago, Facebook launched the most significant move into the eCommerce world, yet with its feature Facebook Shops. 
The news was broken down by Mark Zuckerberg, and their stocks immediately jumped by 6.4%, leading to a record high price.  
"This is the biggest step we've taken yet to enable commerce across our family of apps," 

Mark Zuckerberg
Another important thing is that Facebook came with this feature at a very sensitive time of the pandemic, and they are advertising this feature as a way to help small businesses pass this period.  
More than 30% of small businesses are not operating during the COVID-19 crisis, and small businesses are very important to Facebook. That is why Facebook announced a $100 million grant program for small businesses, support small businesses sticker, and now the eCommerce shops. 
In the not so distant future, all transactions will be going digital, which is why so many companies are interested in a piece of the pie of the eCommerce market. 
Facebook Shops 
The idea behind Facebook shops is to enable businesses to build their own online store and sell their products directly across Facebook. Business owners can now create a dedicated "shop" section on their pages and build an entire catalog of products and services that customers can purchase. 
These shops are free to use and easy to create. Another important thing is that Facebook shops will be highly customizable, so we will see a lot of creative ideas, and it is good that stores won't look the same. 
Additionally, businesses will be able to use third-party platforms to manage their Facebook Shops and even lead the purchase outside Facebook's platform. 
The future of eCommerce 
Possibly the biggest breakthrough in online shopping is the use of artificial intelligence and augmented reality. Facebook designed its shop feature to be fully AR capable, so people will be able to try on clothes, makeup, and even furniture using their camera. 
Facebook acknowledged the importance of customer experience, which is why they tried to create the ultimate shopping experience. Just like you would enter a physical store and ask for help, Facebook shops will allow you to send direct messages to businesses through WhatsApp, Messenger, or Instagram Direct, where you can get support, ask questions, or track deliveries.  
Loyalty Programs 
Another great thing about Facebook shops is the loyalty program. They are still testing the feature where customers can earn rewards by purchasing from the same businesses. This feature will enable you as a customer to earn points if, for example, you are buying clothes from the same brand, and later spend those points for another purchase. 
Even though Facebook shops are free, Facebook plans to collect a commission on every order through their tool. According to Facebook's vice president of ads Dan Levy, they plan to charge "small fees" for their services on every purchase, just like Shopify. 
They weren't specific on their rate or percentage of each purchase, but we will soon find out. 
Facebook Shops already rolled out in the United States, and their plan is to make this feature available more widely in the next couple of months.  
This will be a huge game-changer in the eCommerce industry since one of the biggest social media platforms decided to enter. They also plan to optimize their family of apps such as Instagram to be fully eCommerce ready, just like Facebook Shops. 
When it comes to Instagram, most of the features are identical to Facebook shops except Live Shopping. This is a new way of selling online in real-time. Instagram will have features that will enable you to tag products from Facebook shops in your Instagram live video, and those products will be shown at the bottom of the video so people can quickly tap to learn more or make a purchase. You can even create an auction where people that watch your live video can bid on the product. 
It seems like Facebook is moving faster than a horse racing in the Triple Crown 2020 races. This should be good news for small businesses. Basically, these features are a gateway to success for small businesses that were not capable or did not have the resources to build their own stores.