Dell XPS 13 vs Surface Laptop 2: Here is all you need to know!
Published on October 4, 2018
You all must be aware of the fact that Microsoft recently has launched its new laptop named Surface laptop 2 which has Intel's latest 8th generation processor/ CPU which is in the new colour which looks warmth and good. But we have a question for that is, whether Microsoft has improved its internal specification for the Laptop than its previous launched laptop. Microsoft's previous laptop had a display screen of 13-inches which is the good screen. Surface Laptop 2 looks really good but is this good for you?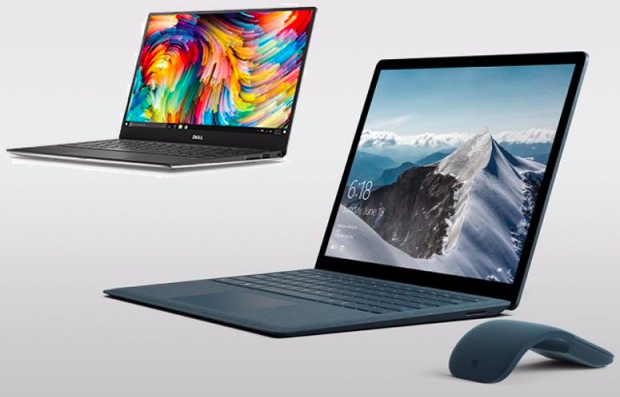 Design
Microsoft's had launched its new laptop named Surface Laptop 2 which looks same as its previous model, which also looks like a thin notebook and which has an excellent all-aluminium build. You must be aware of the fact that the new laptop has Alcantara fabric which covers the keyboard deck which gives an awesome look and also feels soft when touched. This keyboard also gives a luxurious look. This new notebook looks very good and attractive.
whereas Dell's new laptop named as XPS 13 has a more good and appreciable design, also its new laptop has a good change, it changed it's both chassis and bezels. Dells's new laptop has a good display of 13.3-inches whereas it looks more attractive just because it included new materials, like Gore insulation. In another language, it is a new white and rose gold colour scheme adds some panache to an otherwise conservative aesthetic, while the woven texture material in the palm rest and keyboard deck offers a luxuriant feel that's even better than the carbon fibre lining the deck of the black and silver version.
Microsoft Surface Laptop 2 has a lot more than this, the first thing which seems the best is the Keyboard, this keyboards gives you an interesting feel of travelling and also gives you the special feel of using the laptop, secondly, the smooth gesture of the Windows 10 and also of the Microsoft Precision touchpad, The touch display has no doubt that it is the best and regards will be more to Microsoft's Pixelsense panel technology and you can perfectly imagine these all items with Surface Pen.
If we compare it to Dell then Dell has a shallow keyboard which never provides a snappy or if we think of the good typing experience, then sorry it won't just like other it had a Microsoft Precision touchpad that works as well as any you'll find on a Windows notebook. One thing which you will like about the new Dell XPS 13 is that it allows the user to login into Windows 10, by fingerprint reader or facial recognition.
Performance
Performance is all based on the processor and both these laptops, Dell XPS 13 and Surface Laptop 2 have the latest and advanced processor, Intel's 8th generation Core CPU which is absolutely fast and efficient in work. According to the report, we found that Dell's XPS 13 is good in speed and a fast performer and also do not heat while using. Both these laptops have a great processor and will be used with it.
The 13.5-inches IPS display running at a very sharp 3,000 x 2,000 (267 PPI) resolution in the productivity-friendly 3:2 aspect ratio that Microsoft champions. Basically, it says that if it will offer the usual then there is a high contrast and brightness which is enjoyed by other Surface PCs. Actually, this thing is totally to compare the two between IPS display running at a very sharp 3,000 x 2,000 (267 PPI) resolution in the productivity-friendly 3:2 aspect ratio that Microsoft champions and the good thing about this are that they both offers a good and decent brightness with higher colour gamut.
Portability
The Surface Laptop 2 will be the thinnest laptop by Microsoft till date and was also seen as the best performer device. One speciality which Surface Laptop have is that you can carry it anywhere, anytime without any problem because of it so easy to carry and is thin. This new Microsoft's laptop offers the user around 47 watt-hours of battery life which terribly good. This laptop works for 10 hours if fully charged whereas if we compare it to its previous model of Microsoft it stands for around 12 hours if fully charged.
Dell which has the tinner notebook has the ultra-thin bezels which can be maximised to its end. Its display measures 13.3 inches of notebook and its have a weight of 2.68 pounds. Dell laptop is lighter than Microsoft Surface Laptop but yes it is not the thinnest laptop in the world. Dell also gives good results in battery also like it was measured that after watching a full HD video it last for 13 hours and if work on the browser it will last for just 10 hours.
Price for both
Reports tell that both of these laptops have a minimum cost of $1000 and even more, whereas if we say about the Surface Laptop 2 then it comes for $1000 for i5 processor which have just 8GB of RAM and if you want more advance internal option then it will cost for $2700 for i7 processor which has 16GB of RAM with 1TB of SSD. If you are wishing to go for the most upgraded version of Dell XPS 13 then you have to pay just around  $2,100 for a Core i7-8550U, 16GB of RAM, a 512GB SSD, and a 4K display.