Anker's New GaN Chargers are Compact and Efficient
Published on May 24, 2021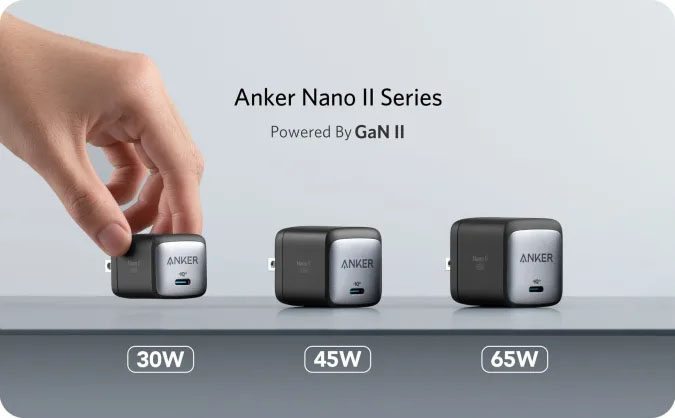 Anker released its first GaN (Gallium Nitride charger 3 years ago. Now, the company has revealed its second generation of that tech GaN charging tech. The GaN Nano II lineup is smaller and much more efficient than the company's first wave of GaN devices. They are also better at regulating temperatures.
Anker has designed a 30W, a 45W, and a 65W charger that all share the same form factor. Each one of them has a USB-C port and Anker's PowerIQ 3.0 tech, which intelligently allocates optimal wattage to whichever device is plugged in.
In the first-generation chargers, only some of the parts were actually made from GaN. The rest were traditional silicon components. The upgraded models have increased the PWM frequency by over 20 percent. This makes these chargers that much more efficient when converting from AC to DC.
The 30W model is almost 60% smaller than the previous version. Anker claims that this charger should charge an iPhones three times faster than the standard 5W charger. Also, Samsung's Super Fast Charging is supported.
Image Credit: [Anker]
The 45W option features a foldaway plug that enables it to be 34 percent smaller than the company's original 45W charger. Also, support has been added for the 2020 MacBook Air, the 13-inch MacBook Pro 13", some Dell XPS 13 models, ThinkPad X390, Google Pixelbook and Microsoft Surface Book 2.
As far as the 65W model goes, it can charge the 13-inch MacBook Pro at full-speed and can fast charge other laptops. In this case, the foldable plug makes it 58 smaller than Anker's original 61W charger.
Anker's GaN Nano II chargers are now available for pre-order on Amazon and Anker's own site. The prices for bleeding-edge tech isn't bad. The 30W model is $30, the 45W option costs $36 and the 65W version costs $40.