All about Sony's new pocket-size projector – CD1
Published on September 23, 2018
It is bit obvious that people think that how can mobile projector can give the moment of home theatre. But for those sony has introduced its new mobile projector which can even give the ways to make it as home theatre (model number – CD1) and you all completely agree that it doesn't matter with the size of the product it matters with the feature of the product.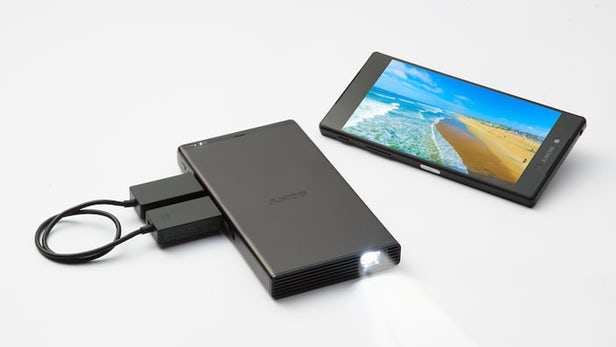 You should be aware that this projector is pocket-friendly and can be used any-time anywhere so lets take an example, let's suppose you are a businessman or entrepreneur and you frequently visit to meet people to share your ideas, so just because of this pocket friendly projector you can give him the innovative study and the concept creation idea which he/she might able to get. So this mobile projector helps you and your family or friends to portray what you think, also suppose you are a teacher which runs its educational institution in her own house and also provides education classes to the respective children home, so now what every family is not having a projector so with the help pf pocket-friendly projector it will be easy to explain the concept with good and fun learning.
So, the projector has so many things with it just like it includes an HDMI cable and a USB-C cable for charging the 5,000 mAh internal battery. You will be shocked after seeing its feature this projector has a lot of features such as, on the right side of the projector there are total 4 ports- one of the USB-C port, USB-out port, HDMI port and also an interesting port, a 3.5 mm jack port. Just like so now we can connect it for charging and other purposes, also the projector out port for performing operations, also the HDMI port which usually depicts that it helps to support Mobile High-Definition Link (MHL) for connecting your smartphone and jack which can connect external devices such as headphones and speakers and on the right side of the projector lens which helps to control and manage focus.
The amazing feature in this feature is that it works automatically just as its point it at a wall and it will configure the display to create a perfect rectangle no matter how you have it orientated. Also, people need a flat surface to use it but ut tremendously has a feature of  GorrilaPod mount which helps you to keep the projector on uneven surfaces or mount it on a railing.
Image size with distance
This sony's mobile projector which is also called as the pocket-friendly projector is so glad that it has a good image quality and also can make an image size of 40-inch when placed on a distance of 1 meter, and more shockingly it can create a picture of 120-inches when placed at a distance of 3 meters this means you can easily connect your television with it and experience home-theatre in your living room and we cannot forget that it also has a 3.5mm jack which can also connect speakers, so these all combinations are perfectly best to imagine a good show at your home. According to the Reports about this also made it clear that it is well used in the sunset as well.
This pocket-sized projector is one of the coolest accessories one can have because you can create your own theatre at your home and can have a lot of experience.