5 Top Ways to Protect Your HDTV from Theft
Published on June 28, 2020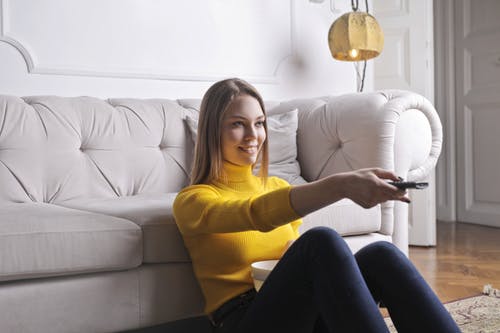 If you own an expensive TV like Apple, then you need to do everything to ensure that it will not be unceremoniously taken away from you. Statistics from the FBI crime show that televisions are among the most stolen items. And there are good reasons for this.
Apart from being expensive, televisions are easy to carry from one place to another. What's more, thieves don't have to struggle to look for markets for a stolen TV.
As such, your new HDTV would easily become a target of thieves. Of course, the first step you need to take is to improve the overall security of your home. You'll also need to take extra steps that can guarantee the security of your television if your home is broken into. Read along to learn more about the options available to enhance the security of your TV:
1. Invest in Anti-Theft Security Kit
The first step you should take to enhance the security of your TV is to lock your television. While you can lock your TV in a safe place when you are out, here we are talking about using a lock to mount your TV on the wall to prevent thieves from getting away with it easily.
AppleTV mount is an excellent example of a TV lock that you can use to keep your TV safe. You can use it to mount your TV or monitor anywhere. Whether you are in the living room, workspace, or meeting room, Apple TV mount comes in handy.
Whichever lock mount you choose for your TV; it should make it hard for thieves to steal your TV. In most cases, the locking mechanism comes with a key that makes it hard for thieves or anyone without the key from removing the television.
While these locks aren't 100 percent theft-free, they are likely to prevent opportunists from stealing your TV.
2. Use a Security Cable
If you've had a bicycle or a motorcycle, then you are familiar with security cables. A thick security cable is an effective way to prevent a thief from snatching your TV from you.
However, before buying any security cable, be sure that it matches the design of your TV. Depending on the design of your TV, any type of security cable may be too narrow or wide.
Ideally, the security cable allows you to lock your TV on one side and then attach it to an immovable object on the other end. This can be a bed frame, fridge, or even a couch.
For better security of your TV, consider installing a security anchor on the wall or floor.
3. Invest in a TV Alarm
You can also enhance the security of your TV by investing in a TV alarm. This device will trigger an alarm when your TV is moved. As such, if a thief breaks into your home, you will know. This way, you can respond immediately by calling the authorities.
For better protection, consider putting the alarm at an unnoticeable place. The best thing is that the alarm can stick onto surfaces as it is self-adhesive.
Even if a thief interferes with electricity, a battery-powered alarm will still work. It will produce a noise loud enough to alarm people in the rooms that surround you.
4. Consider Improving the General Security of Your Home
You can also prevent TV theft and other things in your house by improving the security of your doors and windows. Ideally, burglars will have to break into your house to steal your TV and other valuables.
One of the best ways to achieve this is to ensure that you install strong doors and windows and lock them properly. Among other things, consider having metal grills, a strong deadbolt lock, and other devices that can help your doors and windows withstand forceful entry.
5. Install Security Cameras
You can also opt to install security cameras in your home to help monitor who is accessing your home. Security cameras meant to monitor the interior of your house should be installed indoors. Depending on the camera in use, you can install cameras to monitor entrance points either indoor or outdoor.
However, ensure that the security cameras you install outdoors can withstand harsh weather conditions such as rain and wind. Ideally, by installing security cameras, you're not just protecting your TV set but your home in general.
However, while doing this, ensure that you are not violating other people's privacy. To that end, you may not be allowed to install security cameras in hotel rooms or rentals. You can, however, install them in public places, for instance, a library.