5 DIY Tech Projects That'll Turn You Into a Tech Master
Published on February 8, 2017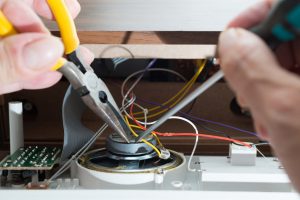 When you were a kid, did you ever tear stuff down and try to rebuild it? I once took apart an old telephone handset and tried to put it back together. It never functioned again.
But as an adult, being able to learn about and build awesome DIY tech is a sort of a hobby of mine. And it's one of those things where you may never really be a master like Palmer Lucky, but you might always be an apprentice.
Like, you can build a radio and but it doesn't ever sound very good? Well, I've collected a set of projects that will make you feel like a master, and they are completely doable.
1. Awesome DIY Tech: Hipster Bluetooth Speaker Radio
Have you ever wished you could look like you've just stepped out of a time machine from the year 1940? Well, we've got the perfect accessory for you.
This project by ke4mcl will have you swinging to jazz in no time.
You'll need:
A working Bluetooth speaker with good battery life.
A good speaker driver around 3-5 watts to handle the power.
An antique radio, preferably portable, anything from the last century could work, really.
A good set of screwdrivers or some small wrenches depending on how it's built.
You will have to wire the Bluetooth and the speaker into the radio because you will want to use the original buttons on the radio.
2. A Retro Gaming Table Out Of Ikea Furniture
If you're an 80s or a 90s kid, you'll remember arcades. Yeah, real arcades where the walls were lined with pinball machines and games like Pac-Man and Galaga.
What if I told you it's possible to turn your living room into an arcade?
A few people online have been building their own arcade table controllers out of Ikea furniture lately.
The hollow furniture is perfect for this DIY tech.
You'll need:
Ikea Lack TV stand
Raspberry Pi, some old game controllers like the Universal Arcade Fighting Stick
USB hub
USB charger and Power Strip
Micro-USB cable
HDMI cable
Grounded Extension cord
Tools like a power drill, a craft knife, and adhesive
3. A Hand-Crank Rechargeable Flashlight
You can buy one of these at Walmart, but wouldn't it be cool to know how to make one? Especially if you want to survive the coming apocalypse? Whenever that will be.
You can totally make one from scratch!
Here's what you'll need:
Spray paint
Two LEDs
Four rectifier diodes
Unipolar stepper motor with its reduction gear
Two capacitors from PC motherboards
A piece of plastic, small
A cardboard sheet
220-ohm resistors, two
You might need some electrical knowledge for this one.
4. A More Primitive Emergency Flashlight
If you can't find parts for a hand crank light, you might be able to make some even more primitive DIY tech.
I found an emergency light you can power with fire and water. Look out, Avatars!
You'll need:
Thermal paste
A voltage step-up, one to five volts
A TEC or TEG module
2 Cans of tuna fish, round, 85mm
2 sheets of 40 by 40 by 3 mm aluminum
LEDs
A 6mm drill
A file
Sand paper or steel wool
5. A Battery Made From Pennies
Pennies are only useful for bringing good luck if you see Lincoln's face staring up at you from the sidewalk…or are they?
What if I told you it's possible to make a battery out of pennies?
It totally is. And all you'll need is:
Paper towel
Thick cardboard
Post-1982 pennies, five or more
100-grit sandpaper
salt
Electrical tape
A red LED
A voltmeter
Scissors
A cup of water
Vinegar
Conclusion:
There is tons of DIY tech out there you can build from scratch. It just takes a little bit of know-how and some elbow grease to make it happen.
What tech are you excited about building from scratch? Let us know in the comments below